Good evening crafty friends,
I  creates a 2 page spread in my Dylusions Large Art Journal Book. I am entering this into the Simon Says Challenge blog for the Monday Challenge called "Simon Says: Art Journaling."
I used the following Dylusions stamp sets:
"Bits if This"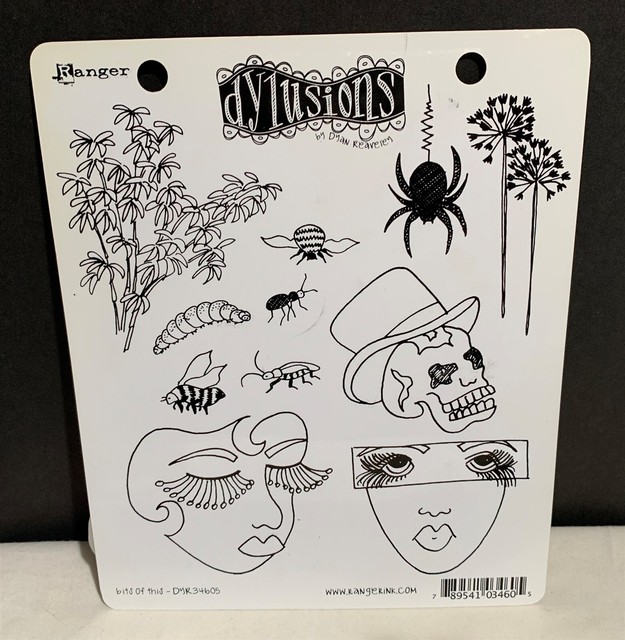 I used the skull head w/ the hat. I stamped one regularly, and the other head I stamped on a reversing block so "she" would be face the opposite way. The heads where colored with Copic Sketch markers. I also used the bugs on here and stamped them all over.
"Passage of Time"
was used for "Her" dress, and her legs are from the set called "Legs."  I colored this dress with Dylusions Pain Pens.
"Winston & LuLu"
I used the Winston's coat & bow tie for "Him," and a pair of "Legs." Colored using Dylusions Pain Pens.
"Legs"
These were colored using Dylusions Pain Pens.
"Doodle Parts"
The swirly thing was stamped using green ink pad onto sticker paper, detailed cut and pasted. I then added some Dylusions "Cut Grass" spray ink watered down and painted over it, so it's not stark white.
"Mischievous Malcom"
This set was used on the right side of the journal book. Malcom's head was colored with Prismacolor pencils, his outfit  was colored  using Dylusions Pain Pens. The Monster was colored with Copic markers. I added googly eys to it. The tree was painted with watered down Dylusions ink spray in "Melted Chocolate."
I added stickers from stash that read: Dearly (I wrote Departed) Forbidden, Lovers, & Forever. I took the picture of this AJ page outside in the bright sun, so the foil stickers do not show up in the photo. The "Wool of  Bat" and "Nevermore" are some leftover G-45 paper.
The left side started out as a Gel Press print, just using wavy lines. The right side was also a pull from the Gel Press. I used the Dylusions Large stencil "Keyhole"
using Dylusions paints Lemon Zest & Pomegranate Seed.  I didn't like it too much so I did a wipe off on it. Then I started adding things on top.

"Graphic Background"
and "Boarding on the Edge"
these were stamped randomly on top of both sides.
I added googly eyes for fun.
Thank you for stopping by today, hope you like my crazy pages. Thank you for leaving me comments.
Peace,
KristyLee